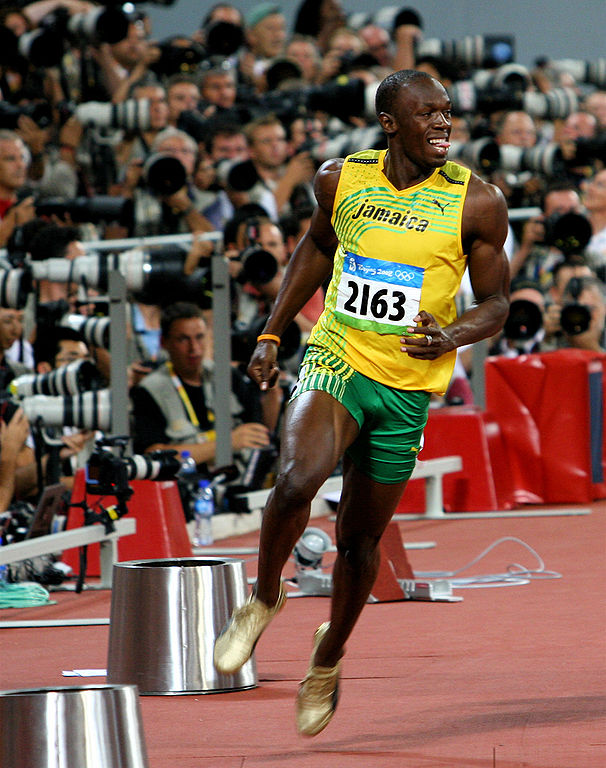 It looks like Wikipedia is  actually at the center of the recent copyright kerfluffle of the photographer (Richard Giles) who got a legal threat from the International Olympics Committee (IOC) over licensing his images from the Beijing Olympics under Creative Commons licenses.  Giles explains the situation on his blog:
It turns out that my Usain Bolt photo was being used by a book shop in the UK to advertise the launch of the Guinness Book of Records 2010. This was being done without my knowledge, and as they pointed out, in breach of the license granted on the Olympic ticket.
That photo was the only one of 293 in the set on Flickr that was licensed with a ShareAlike license (allowing commercial use) rather than a non-commercial license, and Giles had relicensed that particular photo at the request of another Flickrite so that it could be uploaded to Wikimedia Commons and used on Wikipedia.  And Wikipedia is probably where that UK merchant found it and, assuming the license to be legitimate, used it (so it would seem) under the terms of the free license.
Giles reports that it looks like the IOC really just objects to licensing that allows commercial use.   Depending on what the IOC says in response to his request for clarification, Giles may be changing the license on that Usain Bolt photo and asking the UK merchant to stop using it.
What happens now?  By buying a ticket to the Olympics, Giles' appears to have (implicitly at least) agreed to terms and conditions that say he won't use photos from the games except for private purposes.  But he does own the copyright to the Bolt photo, and therefore ought to (except for those terms and conditions) be able to license it however he likes.  Will the fine print of an Olympics ticket be strong enough to force Wikimedia (which agreed to no terms and conditions) to stop using the photo and offering it to other downstream users?