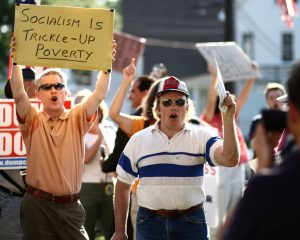 I came across an interesting and disturbing poll yesterday: a post on The Daily Beast reports the results of a new Harris poll that finds staggering levels of disconnection from reality among Republicans: 67% think Obama is a socialist, 57% think he's Muslim, and 24% think he might be the Antichrist.
I dented (like tweeting, but with a free network service) my initial reaction:
57% of Republicans think Obama is Muslim, 24% think he may be the Antichrist? Really? I just can't wrap my head around it.
American public political discourse has gotten bad, but is it really that bad?  As a friend reminded me, you should always be skeptical of "scientific" data presented in unscientific ways.  I've been to a Tea Party; there really are a lot of people who believe that stuff, even in Connecticut.  But 57% of Republicans, and 32% of all Americans, think Obama is Muslim?  It just doesn't compute that in an age of such powerful and ubiquitous media, so many people could be so wrong.
Fortunately, it looks like unreason and willful ignorance aren't so widespread as this poll indicates.  In short, the poll is surely crap.  Pew polls in October 2008 and March 2009 found that a stable 17% of Republicans and 11% of all Americans thought Obama was Muslim.  It's still depressing that there was no decline in misinformation between the campaign and the early months of Obama's presidency, but 17% is a far cry from 57%.  And it's just not believable that it could have gone from 17% to 57% in the last year.
The ABC polling blog has a helpful analysis of the methodological flaws in the Harris poll:
The purpose seems to have been to see how many people the pollsters could get to agree to pejorative statements about Obama.
It's still astounding (and depressing) that poll wording and plausible-sounding but biased methodology can so distort public opinion.  Not to mention that so many people are happy to run with it.